New enDAQ Sensors
Portable & Powerful: The S Series enDAQ sensors (formerly Slam Stick data loggers) offer a convenient, configurable and reliable advantage for you to easily record high-quality shock, vibration and environmental data.
Book a demonstration with an engineer: Book a Demo >
  Video: enDAQ Overview (13:18)
  Video: Product Selection (2:36)
  Product Features
S2 - Mini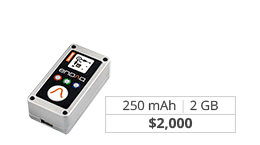 S3 - Polycarbonate
S5 - Largest Battery
*Business days + shipping
enDAQ Waterproof Enclosure:

Engineered to provide an IP68 rating. It also comes equipped with two rectangular mounting magnets each with a 54.1 lb pulling force.
» Product Available
» Click Here for All Accessories
---
---
Included Sensors
| | | | |
| --- | --- | --- | --- |
| Sensor | Measurement Range | Resolution | Sampling Rate |
| Gyroscope | 2000°/s | 0.06 °/s | 0 (off) to 200 Hz |
| Magnetometer | ± 1300 µT | 0.3 µT | 0 (off) to 10 Hz |
| Temperature | -40 to 85 °C | 0.01 °C | 0 (off) to 10 Hz |
| Pressure | 1 to 200 kPa | 1.6 Pa | 0 (off) to 10 Hz |
| Humidity | 0 to 100 %RH | 0.04% RH | 0 (off) to 10 Hz |
| Light | 0 to > 20 uV | <100 mlx | 0 (off) to 4 Hz |
Convenient, Adaptable, and Reliable Learn More
Standalone Measurement System
Embedded sensors, storage & power
Selectable High-Performance Accelerometers
Variable capacitance, piezoelectric & piezoresistive
Selectable measurement range from 16g to 2,000g
Selectable sampling rate up to 20,000 samples per second
Up to 4 Billion Data Points of Memory
Embedded Sensor Suite
Gyroscope, magnetometer, pressure, temperature, humidity & light
Triggering from Sensors and/or Time-Based
Rechargeable Battery Life of Over 4 Hours Continuous
Can operate with external power
Simple USB Interface for Download & Charging
NIST Traceable Calibration
Trusted by Over 2,000 Different Commercial Customers