enDAQ Sensors
Shock, Vibration & Environmental Sensors
Portable & Powerful: enDAQ sensors (formerly Slam Stick data loggers) offer a convenient, configurable and reliable advantage for you to easily record high-quality shock, vibration and environmental data.
Book a demonstration with an engineer: Book a Demo >
  Video: enDAQ Overview (13:18)
  Video: Product Selection (2:36)
  Product Features
PRODUCT SELECTOR
S2 - Mini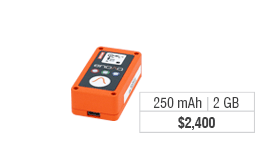 S3/S4 - Standard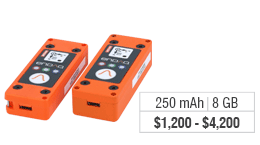 S5 - Large Battery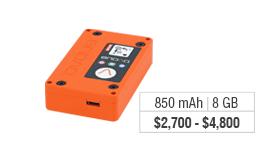 W8/W5 - Wi-Fi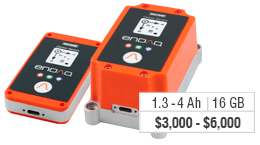 *Business days + shipping may be affected due to COVID-19
**We apologize, due to supply challenges this product is currently unavailable. Please contact our Customer Success team to be notified when this product is available, or suggest an alternative sensor:
Contact Us
.
enDAQ Waterproof Enclosure:

Engineered to provide an IP68 rating. It also comes equipped with two rectangular mounting magnets each with a 54.1 lb pulling force.
» Product Available
» Click Here for All Accessories
---
Included
Sensors
| *W-Series only
| | | | |
| --- | --- | --- | --- |
| Sensor | Measurement Range | Resolution | Sampling Rate |
| Gyroscope | 2000°/s | 0.06 °/s | 0 (off) to 200 Hz |
| Magnetometer | ± 1300 µT | 0.3 µT | 0 (off) to 10 Hz |
| Temperature | -40 to 85 °C | 0.01 °C | 0 (off) to 10 Hz |
| Pressure | 1 to 200 kPa | 1.6 Pa | 0 (off) to 10 Hz |
| Humidity | 0 to 100 %RH | 0.04% RH | 0 (off) to 10 Hz |
| Light | 0 to > 20 uV | <100 mlx | 0 (off) to 4 Hz |
Convenient

Standalone measurement system with sensors, storage & rechargeable battery
Handheld form factor
Setup in minutes over USB interface

Adaptable

Multiple accelerometers for dynamic range
Many additional embedded sensors into single system
User-programmable wake-up conditions and sample rates

Reliable

Trusted in harsh environments by over 2,000 customers & the US Navy
Calibrated with NIST Traceable Accelerometer | Benefits | Calibration Certificate
Storage capacity for billions of data points